Invisalign® vs. Braces: Which is Better Suited for You?
Many​ ​patients​ ​face​ ​the​ ​difficult​ ​decision​ ​of​ ​Invisalign​ ​vs.​ ​braces​ ​when planning​ ​to​ ​undergo​ ​orthodontic​ or other cosmetic dentistry ​treatments.​ ​The​ ​best​ ​option​ ​for​ ​you​ ​will ​depend​ ​primarily on​ ​your​ ​treatment​ ​goals​ ​and​ ​the​ ​severity​ ​of malocclusion.​ ​For​ ​patients​ ​in​ ​need​ ​of​ ​mild​ ​to​ ​moderate​ ​alignment,​ ​Dr. Matthew Turner​ ​can​ ​provide​ ​high-quality​ ​Invisalign​ ​treatment at our Blue Springs, MO,​ practice. ​Having undergone​ ​special​ ​training, he can ​​help patients​ ​achieve​ ​a straighter,​ ​more attractive​ ​smile.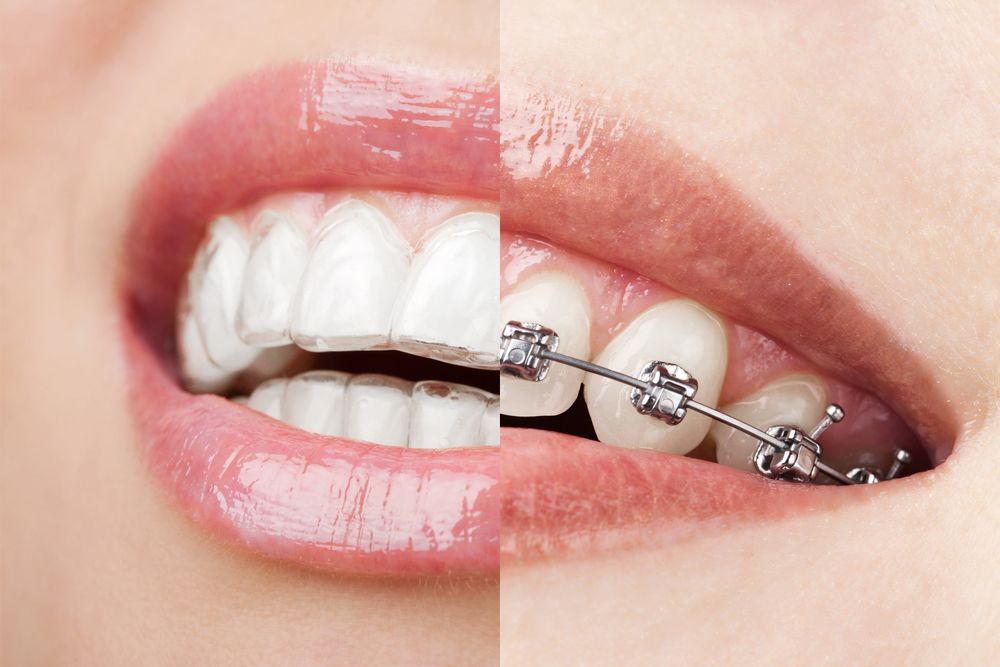 Commonalities in Treatment Capabilities
Both Invisalign and traditional braces can be used to help people improve their smiles by addressing a number of orthodontic issues, including:
Overlapping teeth
Unevenly spaced teeth
Jutted or protruding teeth
Bite disorders (underbite, overbite, open bite, crossbite)
Invisalign is traditionally used to correct minor to moderate issues, while traditional braces are recommended when the level of misalignment or jaw disorder is more severe. Dr. Turner will perform a full evaluation to help determine which would be better suited for you and your orthodontic needs.
How They Differ in Treatment Process
For patients who choose traditional braces, metal brackets will be bonded to the front surface of each tooth. The brackets will then be connected with thin, flexible wires and held in place with ligatures (tiny rubber bands). Every four weeks, the dentist will tighten the arch wires at your monthly office visit so that gradual pressure can be applied to shift teeth into proper position. Braces may often require maintenance to fix broken wires or brackets if the patient fails to avoid the list of restricted food items or lifestyle habits, such as chewing on ice or eating sticky, hard, or sugary foods.
Invisalign is traditionally used to correct minor to moderate issues, while traditional braces are recommended when the level of misalignment or jaw disorder is more severe.
With Invisalign, you will be given a series of appropriate numbered aligners at the beginning of your treatment. The number of aligners you require will depend on the severity of your orthodontic issues. Aligners are designed to fit tightly over your top and bottom teeth and should be worn for 20 to 22 hours a day. They must be removed for eating or drinking anything other than water. Every two weeks, you will change out aligners for the next ones in the series. Office visits are generally every six to eight weeks. If an aligner is lost or broken, a replacement can be fabricated in about two weeks.
Pairing the Right Treatment Method with the Right Candidate
Invisalign is typically better suited for patients with minor misalignment needs who are self-conscious about the appearance of traditional metal braces. Aligners are virtually invisible and offer an inconspicuous solution to achieving a straighter smile. Because aligners are changeable, they can be easily removed for eating and easy maintenance. Adult patients who frequently have important business engagements find this feature beneficial. Adolescent patients may benefit from the advantages offered by Invisalign Teen. However, Invisalign is only as effective as how often the trays are worn. If you lack self-discipline or frequently lose items, you may receive greater benefits from metal braces.
Traditional metal braces are best for those with complex malocclusion, bridgework, rotation of canines, or for teenage or elderly patients who may have issues removing and replacing Invisalign trays throughout the day.
Factors that Influence Your Choice
We understand that lifestyle, budget, and timeline play important roles in deciding which treatment method would be best for you. Made from smooth, BPA-free plastic, Invisalign aligners will fit comfortably inside your mouth without causing mouth sores, as is frequently the case with metal braces. Most Invisalign patients can achieve results in approximately 12 months at a lower cost than traditional braces, which usually take about 18 to 36 months or longer. If comfort and subtlety are of great importance and your dental misalignment is not too severe, you could enjoy the benefits that Invisalign can provide.
Contact Us to Learn More
At the office of Matthew A. Turner, D.D.S., P.C., we are dedicated to helping you achieve a beautifully straight smile. If you are interested in learning more about Invisalign vs. braces, please schedule your consultation with Dr. Turner today by contacting us online or calling (816) 229-1433.