Root Canal Treatment Can Return Your Tooth's Health and Function
Root canal therapy can treat a tooth infection and prevent the tooth from having to be removed. Matthew A. Turner D.D.S., P.C., uses mechanized rotary file systems during root canal therapy and sedation in our office in Blue Springs, to provide patients from Kansas City, MO with comfortable, effective treatment. By saving the natural tooth, root canal therapy helps you preserve jaw bone integrity and may help you avoid the need for more extensive dental work.
Root Canal Therapy Candidates
Patients exhibiting any of the following symptoms may be in need of root canal therapy:
Tooth or jaw pain
Swollen gums around a sore tooth
Discolored gums surrounding a sore tooth
These symptoms may be indicative of a deep cavity or infected tooth pulp and should be treated promptly in order to save the natural tooth. In cases of severe damage or decay, the tooth may not be saved. If so, it would require extraction and an alternative treatment such as a dental implant restored with a dental crown.
Root canal therapy may be recommended to treat infection and decay to prevent tooth loss.

What to Expect During Root Canal Therapy
Dr. Turner will take x-rays to see if there is decay in the tooth, and, if so, to see its exact location. The pulp, or soft tissue inside your tooth, extends into the tooth roots and the canals inside the roots. Root canal therapy treatment works by removing the infected pulp from inside the tooth and replacing it with an alternative material.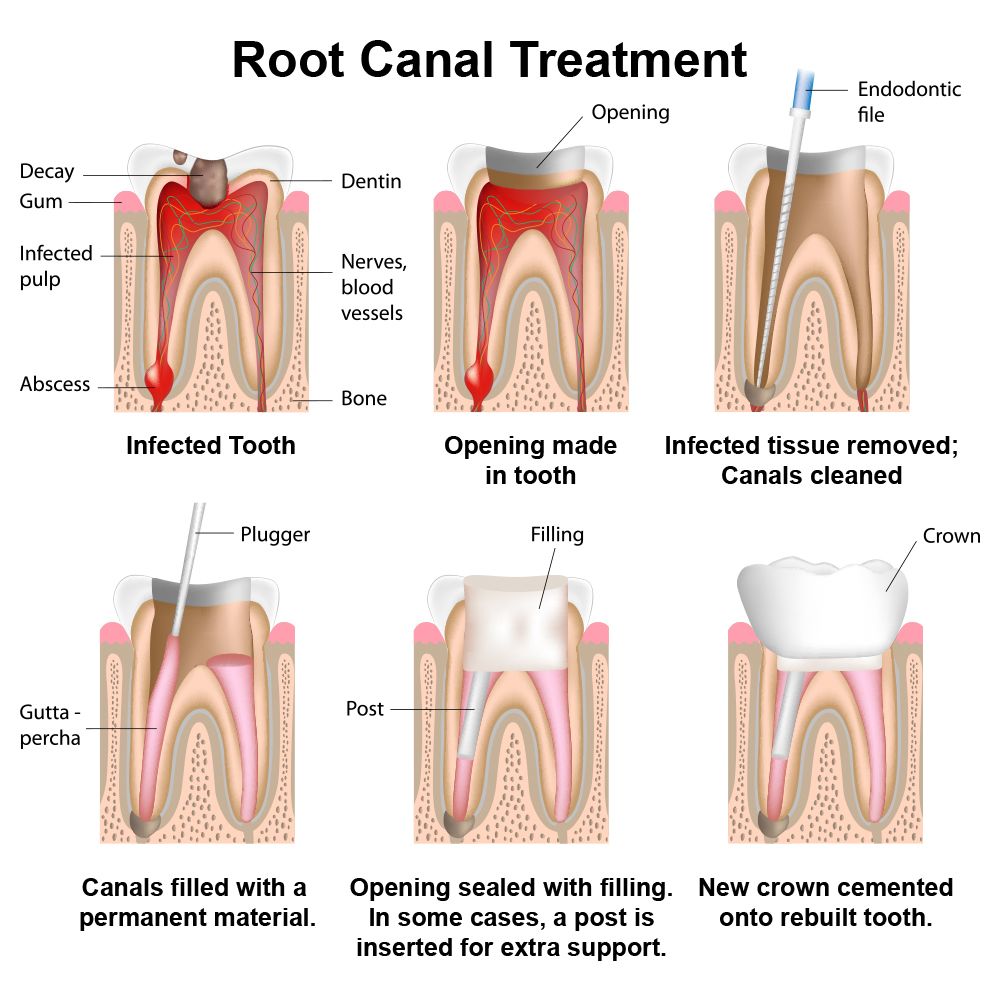 Your comfort is a high priority, and our doctor and team are very experienced at putting patients at ease. To begin treatment, we will anesthetize the area so that it is completely numb. Dr. Turner will create an opening in the top of the tooth to access the pulp chamber. Next, he will remove the infected pulp and clean out the root canals. He may place medicine in the pulp chamber to help sterilize it. In the next step, he will fill the tooth's chamber and root canals with a rubber-like material called gutta-percha. He will then seal your tooth with a filling. In the final step, you will have a dental crown placed to encapsulate and protect the tooth.
Risks and Benefits of Root Canal Therapy
There are few risks involved with root canal therapy. In cases where the tooth is too damaged and does not respond to root canal therapy, the tooth may require extraction. In rare cases, an abscess may develop which requires emergency dental treatment.
Root canal therapy is commonly believed to be a rather painful dental procedure. However, that is a myth. Thanks to advances in technology and the use of anesthetics, root canal therapy is straightforward, comfortable procedure that is similar to getting a dental filling.
Root canal therapy has more than a 95% success rate. The treatment can preserve a tooth that has advanced decay and return biting and chewing function to normal. In addition to saving the tooth, it can restore the tooth's natural appearance.
Contact Us
It is important to treat tooth or gum pain seriously and contact our office as soon as possible for treatment. If you have an infected tooth, root canal therapy can ease your discomfort and help you avoid more complex dental work.