Professional Teeth Whitening Provides Fast, Dramatic Results
Matthew A. Turner D.D.S., P.C., offers Zoom!® teeth whitening technology at our office to deliver brilliant, whiter smiles to residents of Kansas City, MO, in as little as one office treatment. We also offer DayWhite® and NiteWhite® take-home treatments so you can whiten your teeth from the comfort of your own home. These professional, dentist-approved teeth whitening treatments are safer and significantly more effective than over-the-counter methods.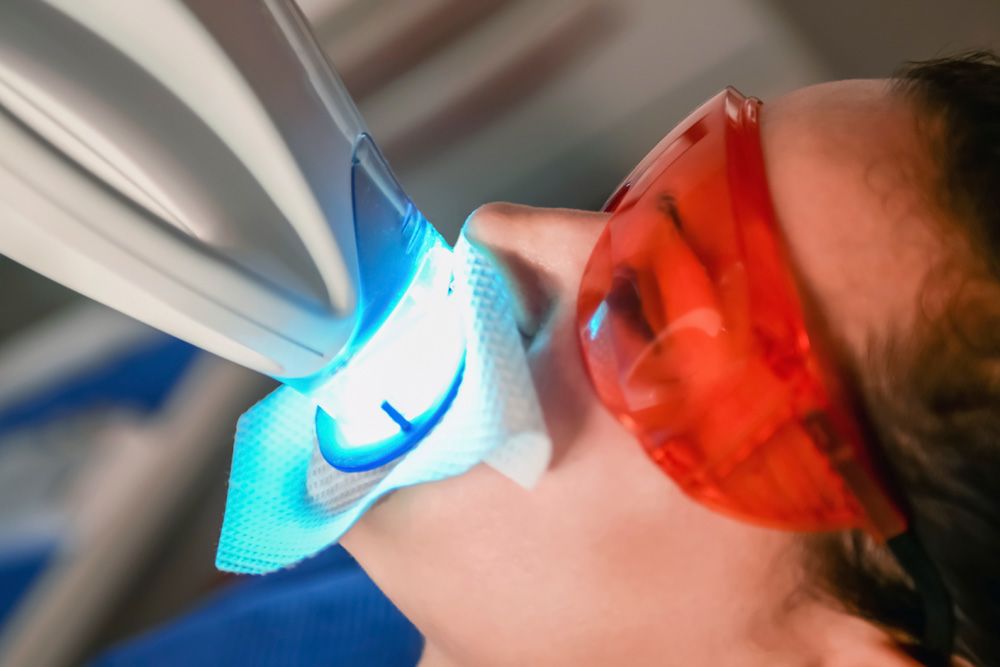 Professional, dentist-supervised teeth whitening treatments are safer and significantly more effective than over-the-counter methods.
Candidates
Professional teeth whitening is a low-risk and minimally invasive treatment suitable for most adults and teens, with parent and dentist approval. The best candidates for teeth whitening have mild to moderate surface stains. Unfortunately, deep-set intrinsic stains and dental restorations do not respond to teeth whitening treatments. These discolorations will require other cosmetic treatments, such as porcelain veneers. Additionally, teeth whitening may not be a good option for patients with extreme tooth sensitivity.
Consultation and Exam
Before treatment, you will first need to have a consultation with Dr. Turner to determine whether whitening is appropriate for your cosmetic goals. After examining your teeth and gums, he will ask about your medical history and together you can decide whether in-office or take-home treatment is the better option for you.
If you opt for take-home treatment, we will take digital scans of your teeth to create your custom teeth-whitening trays. You will receive desensitizing toothpaste to use for two weeks prior to your treatment to reduce any sensitivity to the whitening gel. Dr. Turner will also provide you with instructions about how to use your kit for the desired results.
In-Office Teeth Whitening with Zoom!®
Prior to your whitening treatment, one of our experienced hygienists will clean your teeth to remove any film or particles of food that might interfere with the whitening gel. We will then place a protective barrier over your lips and gums and apply an even coat of gel to the visible surfaces of the teeth. A special chair-side lamp is used to activate the gel and begin the whitening process. The gel will remain on your teeth for 15 minutes before being cleaned off and reapplied. Three applications are usually enough to deliver the desired whitening results. Your teeth can be several shades in about one hour.
Take-Home Teeth Whitening
Patients who choose take-home teeth whitening may receive either DayWhite® or NiteWhite® treatment systems. Dr. Turner will ensure that your custom whitening trays fit properly and feel comfortable. You will use a syringe to fill your whitening trays with the gel and then place the trays over your teeth. Your trays should fit snugly and the gel should remain in the trays and never come in contact with your gums. DayWhite® is used daily for 15 minutes to an hour, while NiteWhite® is worn nightly for about two weeks. The exact amount of time your trays should be worn and the length of your treatment will vary depending on your desired results and Dr. Turner's advice.
Benefits of Professional Bleaching
In-office teeth whitening is fast and offers immediate, dramatic results. Unlike store-bought kits that often have a concentration of only three percent bleaching agent, our professional kits have hydrogen peroxide concentrations of 20 to 35 percent. That is why over-the-counter kits cannot deliver the same results. Whether you undergo at-home or in-office treatments, you can benefit from:
A brighter, younger-looking smile
Boosted self-confidence
Convenient treatment
Long-lasting effects
Minimal risk of complications
Instant results
Both options offer a non-invasive, safe, and effective cosmetic treatment.
While teeth whitening is primarily a cosmetic procedure, there can be oral health benefits, as well. Many of our patients find that a whiter smile encourages them to maintain their results through better oral hygiene habits.
Zoom! teeth whitening can whiten your smile by up to eight shades.
Benefits of Take-Home Teeth Whitening
Take-home teeth whitening treatments are convenient and can be done in the comfort of your own home at any time of day. Many patients enjoy the option of using their custom trays and gel while relaxing at home. Although the bleaching agent is not as potent as that used for in-office treatment, patients can take treatment at their own pace.
Benefits of In-Office Teeth Whitening
In-office teeth whitening offers immediate and noticeable results. In fact, some patients experience smiles that are up to eight shades lighter once the treatment is complete. Additionally, by undergoing your whitening procedure at our Kansas City dental practice, you can also benefit from the close supervision of our experienced dental staff.
Teeth Whitening Risks
Although rare, some patients experience tooth sensitivity following their teeth whitening treatment. If you do experience pronounced sensitivity in the days or weeks following treatment, please let our office know. There is also the risk of overshooting your goal and being left with teeth that are unnaturally white. During your cosmetic consultation, Dr. Turner will discuss what tooth shade best fits your skin color and cosmetic goals. Our aim is to deliver cosmetic results that are drastic yet natural-looking.
Overall, teeth whitening is a safe and effective cosmetic treatment that does not alter your tooth's natural structure. One way to ensure that you do not experience unwanted side effects is to follow your take-home whitening kit instructions carefully. You can also lower your risk for side effects by working with a qualified cosmetic dentist like Dr. Turner, who has practiced dentistry since 1991.
Tips for Maintaining Your Brighter Smile
Patients who undergo Zoom! whitening treatments can enjoy a whiter smile for three years or longer. You can extend the results by maintaining simple habits, such as:
Using a quality electric toothbrush
Using a whitening toothpaste
Scheduling biannual dental visits
Practicing good oral hygiene habits
Patients should also take care to avoid certain stain-causing foods that can reverse the results of their teeth whitening. This usually includes foods such as tomato sauce, berries, curry, balsamic vinegar, coffee, tea, sports drinks, wine, and candy. If you have a hard time eliminating the consumption of these foods and drinks, consider reducing their intake. In contrast, food items like nuts, celery, and carrots can actually brighten your teeth due to their coarse texture.
Many of our patients periodically touch-up their smiles by using take-home kits. You can always purchase additional syringes of Zoom! DayWhite® and NiteWhite® from our office.
Schedule Your Consultation
Zoom! teeth whitening can whiten your smile by up to eight shades. Professional teeth whitening is one of the fastest and easiest ways to give you a brighter smile you can feel confident about. Contact our office online or by calling (816) 229-1433 to schedule your whitening consultation with Dr. Turner. We accept CareCredit® financing to help patients afford treatment.