Tooth Fillings Can Give You a Healthier and More Beautiful Smile
Matthew A. Turner D.D.S., P.C. can address tooth decay with tooth fillings at our Blue Springs office for residents of Kansas City, MO, to repair a tooth and prevent future microbial invasion. Composite resin fillings have risen in popularity, as they match the shade of the surrounding tooth so the aesthetics of your smile are unaffected. They are also safer and offer more strength and stability to the compromised tooth compared to amalgam (metal) fillings.
Difference Between Tooth-Colored and Amalgam Fillings
Amalgam fillings are silver in color. The metal requires the removal of not only the decayed areas of the tooth, but also healthy portions of the tooth. Additionally, this material is sensitive to changes in temperature, expanding and contracting with the heat and cold. This can actually cause more damage to your tooth over time, and may eventually require a dental crown to repair and reinforce the tooth. Although the levels are low, amalgam fillings do contain mercury, which is considered toxic and can cause an allergic reaction in some patients.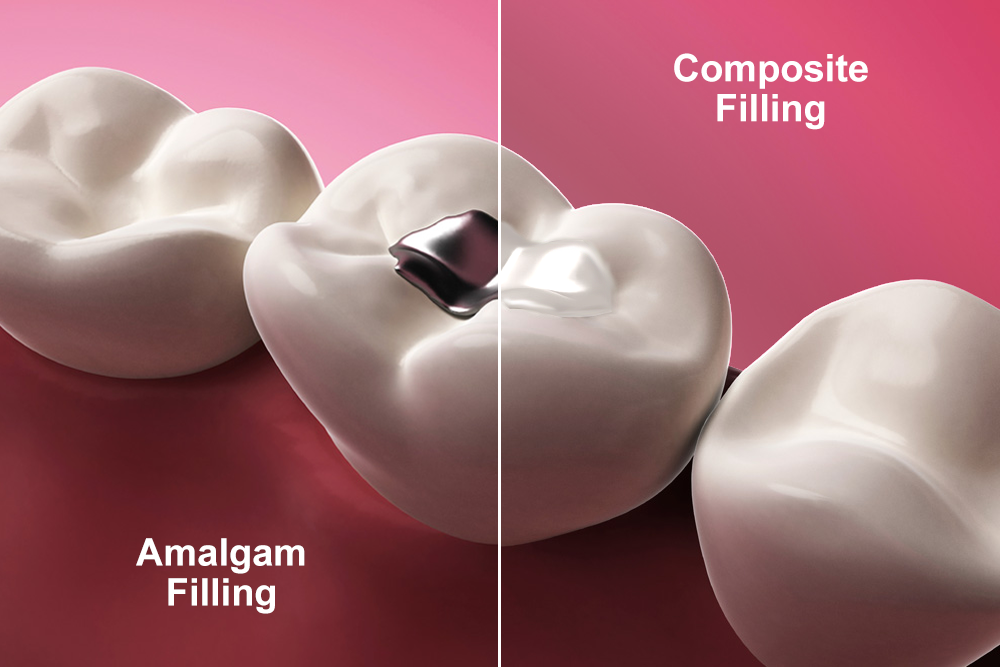 Composite resin fillings have risen in popularity, as they match the shade of the surrounding tooth so the aesthetics of your smile are unaffected.
Tooth-Colored Fillings
Composite resin is a biocompatible, non-toxic material. It is unaffected by temperature changes, so it provides more strength and stability to the compromised tooth. Additionally, we can adjust the shade of the material so that it blends completely with the surrounding tooth. This makes the filling nearly invisible, so you can enjoy a healthier and more beautiful smile.
Placing Tooth-Colored Fillings
After Dr. Turner determines you have a cavity that needs a filling through an examination, he will begin to prepare the tooth. After numbing the treatment area, he will carefully remove the decayed parts of the tooth, leaving the healthy structure intact. He will then mix the composite resin solution, creating a shade that matches your tooth. The resin then fills the areas of the tooth that were removed. To harden the material, Dr. Turner will hold a UV light over the tooth for about 30 seconds. He will then check to ensure your bite is unaffected by the filling, and can file it down if necessary. The entire filling procedure is completed during a single visit in our office.
Who Can Benefit from Tooth-Colored Fillings?
Fillings can be the best solution for patients with mild to moderate decay. More severe cavities may require an inlay or onlay, or a dental crown. For patients who currently have amalgam fillings and want a whiter smile, Dr. Turner can remove those fillings and replace them with composite resin.
Risks vs. Benefits of Tooth-Colored Fillings
There are very few risks associated with tooth-colored fillings, as they are non-toxic and strengthen the tooth. You may experience some mild sensitivity in the tooth, especially to very hot or cold food and drinks, for a day or two after getting a filling. You may also experience some discomfort, typically when chewing. This should subside within a day or two as well.
The many benefits of tooth-colored fillings outweigh the minor risks. They will provide strength and reinforcement to your damaged tooth. Because they closely match the shade of your tooth, composite resin fillings are virtually invisible. This means you can enjoy a smile that is both healthier and more beautiful.
Schedule Your Next Appointment
If you are experiencing any chronic tooth pain or sensitivity, you may have a cavity. Contact our office to schedule an appointment so Dr. Turner can determine if you need a filling.